Dr. Fox is the best Miami laser hair removal expert in Miami. That said, it's important that you choose a laser hair removal provider that offers you a first-class laser experience. As experts in the laser skincare world, we're about as obsessed with laser hair removal as we are vein removal, tattoo removal, and helping you live your healthiest life, and we take pride in the quality of our laser hair removal treatments.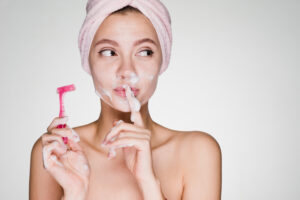 Here's why:
"With so many advances in the world of laser skincare, it's hard to imagine that anybody would still want to treat their skin troubles in any other way. From removing unwanted hair on your body, to treating scars and acne and even removing tattoos, lasers are the way to go," says Fox Vein & Laser Experts founder, Dr. Susan B. Fox, a top laser hair removal doctor in Miami.
At Fox Vein & Laser Experts, we specialize in the diagnosis and treatment of venous disease including varicose and spider veins, leg pain and swelling, ulcer care, venous insufficiency, deep vein thrombosis, pulmonary embolism and blood clotting disorders.  We have a highly skilled vascular lab with a registered physician vascular interpreter.  Our medical team has decades of experience treating venous disease and Dr. Fox and her team have successfully performed tens of thousands of vein procedures which is why we have the best laser hair removal reviews in Miami. And that's not all.
In addition to our expert vein treatments, we offer state-of-the-art laser treatments to provide our patients the ability to treat and remove everything from:
Tattoos
Scars
Acne
Melasma
Wrinkles and sagging skin
Hair
From top-of-the-line lasers like Syneron Candela's PicoWay to laser hair removal's most powerful tool, the GentleMax Pro, your skin is in excellent hands at Fox Vein & Laser Experts.
Which begs us to ask, "Why are you still shaving?"
If the thought of shaving your legs, underarms, bikini line or any other part of your body has you exhausted just thinking about it, then you are the perfect candidate for laser hair removal. We know you've thought about it, we're pretty sure you've asked your friends about it, and something tells me that if you're reading this, you've probably already inquired about pricing.
Here are the top 5 reasons to try laser hair removal at Fox Vein & Laser Experts, in case you still need a little convincing:
Captain Obvious, AKA, NO MORE SHAVING!
For years, women have dealt with the struggle of shaving their legs, underarms, bikini lines, and various other parts of their bodies. Shaving is not only time consuming and costly (have you seen the prices of today's razors?!), it seems endless.
"In most cases," Dr. Susan B. Fox says, "the more you shave, the more you'll need to keep up with it. It's almost impossible to ensure that you hit every spot when you're shaving, which also leaves people feeling pretty frustrated."
You're likely nodding right now because, when was the last time you didn't miss a spot?
And for that matter, no more waxing.
Waxing, for many, is the bane of their womanly existence. These days, people are waxing everything from their most private parts to their toes, while wincing in pain all the while. Waxing presents a whole set of not-so-pretty problems and side effects, including:
– Redness and irritation
– Rashes, bleeding or bruising
– Burns
– Discoloration
– Infections
– Loss of elasticity (AKA a wrinkly upper lip and saggy eyelid skin!)
Now mention again why you'd willingly want to put hot wax on your body?!
No more ingrown hairs
Your bikini line will breathe a sigh of relief after you've taken the leap and had your first laser hair removal treatment. Your waxing specialist might miss you, but we can promise you're your upper lip and chin won't miss the torture they call waxing for one second at all. There is nothing worse, or more unsightly, than a bulging ingrown hair. From the reddish, purplish color it takes on to the throbbing pain it causes, you can rest assured that laser hair removal will rid your future or these zit-like problems. In fact, laser hair removal can actually improve the ones you have now by helping them disappear altogether.
It's more cost effective than you think
Sure, initial sticker prices of laser hair removal may seem high to someone who has been repeatedly purchasing razors, shaving cream, and making waxing appointments for the last 20 years, but have you ever stopped to add that all up? With laser hair removal, you'll incur one-time fees, of course, but you will never have to shell out cash again for all of the hair-removal accoutrements you've been so dependent on since adolescence. Oh, and since they say time is money, you'll be saving a lot of that too!
It's as fast as it is effective
There is no peace of mind like going into a laser skin treatment knowing what to expect. We love that laser hair removal is one of those procedures that is guaranteed to give you the results you want. That's the magic of laser hair removal.
Treatment times are relatively quick, and typically last no more than 20 minutes. Each visit will be faster than the last, and as your hair stops growing, it'll be less uncomfortable for you as well. Most patients can achieve permanent hair loss within 4 to 6 sessions, making laser hair removal a super successful procedure. What's even better is the fact that there is no downtime associated with your laser hair removal treatments.
If you're still not convinced that laser hair removal is for you, just think of all the different areas you can treat! Laser hair removal has often been thought of as just a leg, underarm and bikini hair removal procedure, but we don't just stop there! Laser hair removal with our GentleMax Pro can be safely administered on:
Legs
Underarms
Face
Arms
Feet
Bikini
Back
Buttocks
Chest
Abdomen
During a laser hair removal treatment with the GentleMax Pro®, dual wavelength technology is directed at the patient's target treatment area. This machine delivers direct bursts of laser energy to the skin, passing through its uppermost layers and targeting the follicles. As the follicles absorb this energy, they begin to rupture. If this rupturing is complete enough, the follicle can no longer produce hair. Over a series of treatments, all the follicles in an area are ruptured, halting hair growth and leaving the surface of the skin smooth and hair-free.
If you're ready to throw away your razors, stop making waxing appointments, and have smooth, hairless skin forever, call us today! We'll be happy to share our laser hair removal prices in Miami!