Suffering from acne under your mask? Here are the Mascne treatments you need!
Suffering from acne under your mask – Maskne treatments you need!
And just like that, it's summertime again here in south Florida. It's hot, sweaty, and to top it off, we're spending summer under our masks which packs a double punch when it comes to trying to keep our skin clear. What was once the typical summer acne from sweaty workouts, sunscreen-clogged pores, and your body's adjustment to the heat is now coupled with skin that is not able to breathe underneath a mask.
This is what's now known as "maskne" – it's the irritation and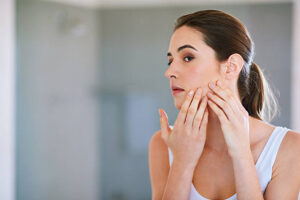 that appears underneath your mask.
We're not knocking the mask, though. You need to keep wearing it, regardless of how your skin is reacting – to keep yourself and others safe as the Covid-19 pandemic continues to persist.
But if you're like the rest of us who just can't seem to catch a break when it comes to summer breakouts, we've got the perfect maskne treatments to clear things right up for you.
Fox Vein & Laser Experts Finding New Ways to Treat Your Skin
At Fox Vein & Laser Experts, a skin and vein clinic just outside of Miami, we're constantly finding new ways to treat your skin. With best-in-class skincare technology, we're able to eradicate almost any skin woe you're facing. These days, we're focusing so much on the acne that is forming around the mouth, nose and chin. Many of us are spending hours upon hours under a mask – the same mask – which means our skin does not have a chance to breathe. Even if you aren't acne-prone, it's not uncommon to find that you're starting to breakout from the heat and mask combination.
If you're ready to lose the maskne, here's how we're doing it:
No, this is nothing like your average facial. This is like three of those in one; combining an aqua-delivery system, skin revitalizing solutions and Hydrogen therapy for a multi-dimensional skincare treatment. It cleans, refreshes, hydrates, and soothes – leaving your skin looking plumper, cleaner, more radiant, and dare we say it – firmer.
Even with all of this magic happening between the Skinwave technology and your skin, it's gentle and safe for all skin types, tones, and textures. So, how does it work?
Skinwave's aqua-delivery system starts with a Hydrogen-enriched water infusion. The high concentration of Hydrogen reacts with active Oxygen that is linked to drying and aging. By forming newly-bound water molecules that are extracted via the radial tips, this unique Skinwave step provides antioxidant and moisturization benefits and reduces inflammation.
This is key for your maskne, which is all an inflammatory reaction to the material on your skin combined with the humid summer heat.
But that's not all…
Skinwave Also Infuses Your Skin
The Skinwave also infuses your skin with three nutrient-rich solutions to optimize skin revitalization. Deep into your skin goes Alpha Hydroxy Acid (AHA), Beta Hydroxy Acid (BHA) and Hyaluronic Acid to address top skincare needs: exfoliating, oil control and moisturization. Dial-up the volume of one of these solutions to offer a more customizable treatment.
Did we mention the LED-light component?
Yes, it has that, too. Think of this extra Skinwave step as the proverbial icing on the cake – completing an otherwise perfect treatment. The electrical pulse hand-piece open pores to maximize solution absorption with red and blue LED light for targeted treatments. The double-lifting handpiece activates lymphatic circulation, provides muscle relaxation, skin tightening and lifting effects.
So now, not only is your maskne gone, your skin looks better than it has in years – pre-pandemic time included.
Contact Fox Vein & Laser Experts For Maskne Treatment
Call today for more information on how you can clear up your maskne and give your skin the boost it needs with our Skinwave technology!  If you'd like more information about our practice or are interested in scheduling a consultation appointment with us, contact us today!