The Best New Aesthetic Treatments at Fox Vein Experts
Ring the alarm – Fox Vein & Laser Experts has expanded. We are so proud to now offer best-in-class aesthetic treatments at our Hollywood Laser Center and have been looking forward to sharing all of our new offerings with you.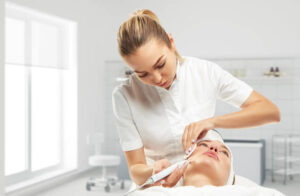 If there is one thing Dr. Susan Fox, owner and founder of Fox Vein & Laser Experts, has learned in her years of treating patients for their venous diseases it's that people don't only want to feel good – they want to look good, too. It just so happens that we're also living in a time where self-care and treating yourself have finally rose to the top of the list when it comes to what's trending and we're so happy we can provide you with all of the ways to do both.
Until now, we've offered laser hair removal Miami and laser skin rejuvenation treatments Miami to our Fox Vein patients. But with the expansion of our office comes the opportunity to do so much more and offer you the very best in south Florida aesthetic treatments.
Our new state-of-the-art aesthetic center comes fully stocked with top-rated skincare products, laser devices, aestheticians and laser experts. Not to mention, a wide array of treatments that can be stacked to save you time, money, and effort.
Here are our best new aesthetic treatments we'd love for you to try!
Microneedling
You may have heard us mention microneedling in the past. This top-trending beauty treatment for 2019 is the aesthetic world's current obsession, and lucky for you, we can indulge you in it. The difference? Our Vivace RF Microneedling technology offers unrivaled power – and before you balk at the idea of needles – unrivaled comfort.
"The Vivace is a next generation radio-frequency microneedling device that delivers immediate and long-term results with a pain-free, no downtime experience. The minimally-invasive treatment stimulates the natural production of collagen and is shown to be effective in alleviating facial wrinkles, fine lines, and and toning the face, neck, hands, and body. Unique in its design, depth of treatment, precision and holistic approach, the Vivace is truly best-in-class. " – Cartessa Aesthetics
Vivace RF Microneedling is a simple-yet-effective way to tighten skin, minimize the look of pores, fine lines, and wrinkles, as well as boost collagen on the face, hands, neck and body.
Platelet-Rich Plasma (PRP)
Platelet-rich plasma treatments, otherwise known as PRP, frequently administered in tandem with microneedling treatments.  This procedure, used to help with skin rejuvenation, involves the application of a patient's blood platelets back into their body in a targeted location that needs treatment. The platelets are retrieved from a blood sample that is taken from the patient, separated from other blood components, and then applied back into the body to do their work. These platelets have proven to encourage areas of the body that are inflamed or damaged to heal much more quickly. Microneedling is a procedure in which new collagen and elastin-rich tissue is created as a result of the skin being "injured" by tiny needles pricking its surface. When PRP is added to a Vivace RF microneedling treatment, it causes those needle wounds to heal at a faster pace, and will assist in lifting the skin, decreasing wrinkles and fine lines.
In addition to what PRP can do you for face, have you heard what it can do for your hair, or lack thereof?! According to One Medical, Researchers are able to regrow hair in balding patients with a series of injections known as Platelet Rich Plasma therapy (PRP). PRP is nothing new, but experts only recently have begun investigating its potential role in hair regrowth. The treatment involves drawing the patient's blood and spinning it in a centrifuge to separate the plasma from the red and white cells. After adding nutrients like protein, the platelets and growth factors are collected from the sample and injected into the scalp where the hair is thinning.
Microblading
Eyebrows – they frame your face, and when they're freshly done, make you feel like a million bucks. But as we age, maintaining full, lush brows that are perfectly shaped and symmetrical is hard work, almost impossible for most.
Enter microblading, a tattooing technique in which a small handheld tool made of several tiny needles is used to add semi-permanent pigment to the skin. Usually completed in 1-2 sessions, our microblading expert will analyze the shape of your face and adjust your brow shape, thickness and distance apart to ensure natural, long-lasting results.
Dermaplaning
Ever look at your skin and feel defeated by the dullness that has replaced your once glowing, youthful skin? Dermaplaning will become your new secret weapon. Dermaplaning is a physical exfoliation procedure. It requires the use of a sterile, surgical scalpel to gently "shave" the skin's surface, removing the top-most layer of dead skin along with fine, vellus hair (aka peach fuzz). It basically shaves a layer of skin off of your face, gently and feeling like nothing more than a tickle, to reveal that bright skin you miss so dearly.
Contact us at Fox Vein & Laser Experts Today
For a full list of our new services or to make an appointment for your first aesthetic treatment in our new space, contact our vein center Miami today! At Fox Vein & Laser Experts, we're not just legs!