Flawless Legs in Time for Spring at Fox Vein & Laser Experts
Spring is the best time to get your body ready for the fun in the sun days that summer brings. As the weather warms up, here at Fox Vein & Laser Experts we want to help you make sure your legs look they are very best.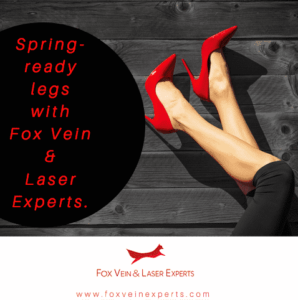 We have a variety of options to get your legs ready for summer including laser hair removal, vein removal, and varicose vein treatments.
Here is the top three ways to get your legs ready for the warmer weather – in a little more detail – before you make your first appointment to visit our office.
Laser Hair Removal
Summer fashion causes us to have to shave a lot more often. Well, now you can say goodbye to shaving, waxing, tweezing, and worrying about unwanted hair.
We have one of the best laser hair removal options in Miami and overall on the market, the GentleMax Pro laser. This state-of-the-art laser eliminates hair with better accuracy and fewer treatment sessions. This gentle and very effective laser allows us to customize treatments for our patients that cause little to no discomfort and don't require any downtime for recovery.
The laser's dual-wavelength technology delivers bursts of energy through the skin and straight to the hair follicles. As they absorb the energy, they rupture and can no longer produce hair.
Regardless of skin color, skin type, or area of the body where you want to get rid of that unwanted hair, our laser can conquer it all.
Vein Removal and Varicose Vein Treatments
There are several options for vein removal depending on the size of the vein and the location on the body. Here are a few very effective procedures that we offer in our offices. Varicose veins cause a great deal of pain, swelling, heaviness, and aching on top of frustration and self-esteem issues. We have several options for treatments, here are a few to start.
Ambulatory Phlebectomy – for medium to large ropey, unsightly veins, this in-office procedure is done under local anesthesia. The veins are removed with minimal to no scarring.
Endovenous Laser Ablation – For venous insufficiency and large veins, this preferred procedure is one of the most effective and offers no downtime to patients after the treatment. A thin laser fiber is inserted into the vein. The laser energy pulses are delivered, heating the vein and causing it to collapse and seal shut. The procedure is done in a matter of minutes and the patient returns to normal activities.
VenaSeal– If your legs feel heavy or are swollen at the end of the day, varicose veins may be the culprit. Using the latest technology, we can glue your veins shut.  Similar to crazy glue this glue is inserted into the culprit's veins and the veins are shut down without any downtime.
Ultrasound-Guided Sclerotherapy – This treatment is used for veins under the skin that are not very visible. Under ultrasound guidance, a needle is inserted into the vein and a sclerosing agent is injected into the vein causing the vein to scar down, seal shut and re-route blood to healthier veins. The sclerosant can be liquid or foam for more effective treatment.
Don't let time pass you by. Summer will be here before you know it. Let Fox Vein & Laser Experts get your legs ready for the season. We offer the best vein removal, varicose vein treatments, and laser procedures in Miami and throughout South Florida. Contact us today!