Have Questions About Laser Tattoo Removal in Miami?
In today's day and age, everyone is obsessed with being mindful. Living in the present, focusing on the here and now, and letting go of yesterday seems to be the best practices for our health and well-being. Because we're in the business of health, we agree with these practices, which begs the question:
If you're ready to let go of the past, why are you still hanging on to that old tattoo?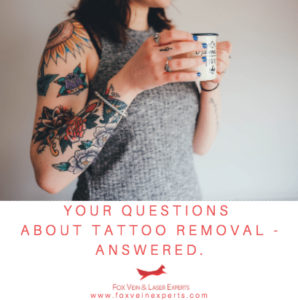 At Fox Vein & Laser Experts, a top choice in Miami laser tattoo removal and treatment of venous disease and skincare issues, we can't wait to help you let go of the past and make your skin beautiful again. Laser tattoo removal at Fox Vein & Laser Experts is effective, quick, and best of all – safe.
We understand that, at one point, the same tattoo you once couldn't wait to flaunt is the one you now strive to cover up. Hey, mistakes happen – and we promise not to judge. But if you're looking for answers to your questions about tattoo removal, allow us to clear up a few misconceptions  for you so that you can get started on your journey to tattoo-free skin.
Myth #1:
Tattoo Removal Requires Surgery
No way! Tattoo removal is done with one of our top-of-the-line lasers, PicoWay. Laser tattoo removal with PicoWay can remove tattoos  with a wide variety of pigments and on patients of all skin types, faster, more effectively, and with less pain than traditional Miami laser tattoo removal methods.
Myth #2
Tattoo Removal is Ineffective on Darker Skin Tones
Also not true! Tattoo removal at Fox Vein & Laser Experts is as effective on lighter skin tones as it is on darker skin tones. PicoWay® uses innovative laser technology that delivers pulses of laser energy that only come in contact with your skin for one picosecond. Since the laser comes into contact with your skin for only a short period of time, it will not heat up your skin like other lasers do. As well, it uses vibrational energy to literally shatter the ink into tiny particles which your body can clear faster and better than other lasers. The laser's energy is targeted and delivered directly to the tattoo. As a result, many of the risks of traditional methods all but disappear for individuals with darker skin.
Myth #3
Tattoo Removal Takes Years
In the past, ineffective tattoo removal procedures were a huge investment of your time, energy and money. Today, because of PicoWay's superior technology, tattoo removal at Miami vein center is as quick as it is comfortable and effective.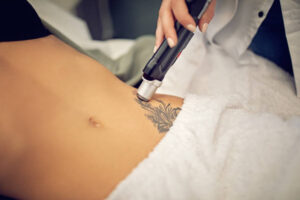 In a consultation with one of our skincare experts, you will receive guidance and information as to how long the process will take – as everyone's skin is different. Number of procedures will be determined by your skin type, color, tattoo color(s), age and size of the tattoo.
Contact us today at Fox Vein & laser Experts
Now that we've busted the top myths about tattoo removal, we'd love to get you scheduled to help you forget the past and live in the present. Contact us today at (954) 627-1045 to make your tattoo removal appointment.