What Causes Dark Spots on Your Legs and how treat them?
Black Spots on Legs
People of all skin tones can have dark skin spots on their legs or black spots on legs, and that should not worry you. Not only can you have dark spots on your leg but also in some other parts of your skin. This article describes the causes of dark leg spots, Laser Dark Spot Removal, Dark Spot Removal Treatment, Dark Spot Treatment Miami.
Causes of Dark Spots on Legs:
Sun Burn
Our skins produce melanin as a way of reacting to the sun. Some skin patches produce a lot of melanin, while others produce less. Too much sun causes dark skin spots, and it is one of the leading cause causes.
Post-inflammatory hyperpigmentation
This cause occurs when one has suffered from acne or has had some skin injuries. Such factors cause inflammation in the areas affected resulting in increased production of melanin. Once melanin has been produced, there forms a dark spot on your skin.
Diabetes
Patients who have insulin-dependent diabetes always have a problem with insulin production. If the body does not utilize insulin, it tends to accumulate in the bloodstream causing a dark spot to form on the skin.
Melanoma
This is a type of skin cancer that is characterized by dark spots on the legs of women and on the faces of men.
Addison's Disease
This disease is not common but it causes hyperpigmentation on skin parts that are exposed to the sunlight and those parts that experience the most tension like the knees. It causes you to have darker knees.
How to Treat Black Spot on Leg Using Laser Treatments?
Laser treatment is the most effective way of treating the dark spots on your legs or black spot on legs but it depends on the cause of the spots. Among the procedures used is using targeted beams of light to eliminate the layers of the skin. Another procedure is using targeted beams of light to tighten the skin by promoting collagen growth.
Laser treatments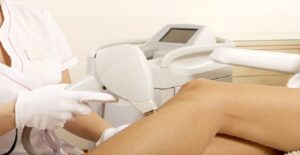 can be done exclusively or you can combine them with other treatment options. The procedure ought to be conducted by a qualified and certified physician to ensure safety.
Contact Fox Vein & Laser Experts For More Help!
At Fox Vein & Laser Experts, Our Vein Center Miami is here to help you to remove dark spots on your legs and legs laser hair removal Miami Please Contact us at 954.627.1045 today. Start a new confident life with a beautiful face.
FAQs
What causes dark spots on legs?
If you are wondering what causes dark spots on my legs, do not worry. Many people, of all skin tones, have dark spots on various parts of the body. Dark spots on your skin can be a result of a variety of things, but there are five main causes for these dark spots on your legs: sunburn, diabetes, Melanoma skin cancer, and post-inflammatory hyperpigmentation, which can occur because of acne scars or a skin injury. 
Addison's Disease can also cause dark spots on the legs. This rare disease causes hyperpigmentation on areas of the skin that is exposed to the sun.
How can I remove dark spots on my legs?
The most effective way to remove dark spots on legs is through laser treatment, such as PicoWay®. The exact type of treatment used depends on the actual cause of the spots, so it is important to consult with a medical professional before deciding on a procedure to follow through with. The two main options include using target beams of light to get rid of the actual layer of skin where the dark spots occur, or using targeted beams of light to tighten the skin surrounding the dark spots and promote collagen growth. 
Laser treatments for dark spot removal do not cause discomfort and do not require any surgery or downtime. These treatments can be done alone or can be combined with other treatment options if needed.
Which deficiency causes black spots on the legs?
Diabetes is a disease in which the body is not able to produce or respond to the hormone insulin properly. If you are someone who has insulin-dependent diabetes and is deficient in insulin production, that means the body is not properly using insulin. It can build up in the bloodstream and lead to dark spots on the skin on the legs and elsewhere on the body.
Which vitamin is good for dark spots?
There are three main vitamins that are recommended to help with dark spots or any hyperpigmentation of the skin: vitamin C, vitamin B12 and vitamin E. Both vitamin C and B12 are useful for promoting collagen production in the skin, while vitamin C also inhibits melanin and vitamin B12 helps new skin cells grow. Vitamin E is most well known for its ability to help with scarring, and this can also decrease the appearance of dark spots on legs or anywhere on the body the spots may appear.
How can I lighten dark scars on my legs?
In addition to laser treatments, taking vitamin C, B12 and E can help to lighten the dark spots and/or scars on your legs. Other home remedies include using essential oils and massaging and exfoliating the affected areas.