Is There A Way To Tone Your Tummy?
Safe & Effective Body Contouring Treatment

The beauty of living in South Florida where the sun shines nearly every day? A beach day is always a good day! That means a tight and toned physique is a top priority. Sometimes, even the cleanest diet and frequent exercise don't do the trick. You work hard at the gym, you take all of the right vitamins and supplements, you eat well and drink plenty of water. But, you still find it hard to fight off those stubborn pounds in certain parts of your body.
Does this sound like you? If so, you're in luck. Fox Vein & Laser Experts now offers a new safe and effective body contouring device. The Miami vein doctor signed up early to bring you one of the first opportunities in South Florida to tone your tummy.
PHYSIQ Helps Tone Your Tummy
FDA-cleared PHYSIQ, designed as a body contouring device, helps you reach your body goals. Through its unique technology, PHYSIQ takes tummy toning to the next level. Even better, it can tone more than just the tummy! Arms, legs, thighs, buttocks, waist and other problem areas you feel need attention. Wherever you feel your body needs a little tightening, PHYSIQ fits the bill.
How PHYSIQ Body Contouring Works
PHYSIQ utilizes STEP Technology, which stands for Sequential Thermal and Electrical Pulse. It alternates between two different kinds of technologies that heat the body to target the tissue. Secondly, the body contouring device contracts the muscles to stimulate and re-educate them to reach the desired result.
PHYSIQ uniquely uses STEP Technology; no other device on the market has those bragging rights. It uses electrical muscle stimulation (EMS) mixed with a superluminescent diode matrix (SDM). As a result, heat emanates from this technology. Fox Vein & Laser Experts patients enjoy PHYSIQ as quick and painless. They receive maximum results in a minimal timeframe.
Choose PHYSIQ to Address Body Trouble Spots
If you want to tone your tummy and focus on the under arms, a common trouble spot, your esthetician uses multiple applicators to treat more than one part of the body simultaneously. You can use the applicators together on one part of the body, or on multiple areas.
These small applicators with their special design emit energy at a 120-degree angle. With that ability, the applicators allow for broader coverage in the underlying tissue. Even for a larger part of the body, such as the buttocks, large applicators not required! Additionally, the small size of the applicators allows the doctor the ability to arrange them how they see fit.
Benefits of Body Contouring
The PHYSIQ applicators come equipped with silicone gel pads; a huge benefit. So, no need for messy gel application before the treatment and no clean-up needed at the end. The silicone pads, simple to apply and remove, also help energy transfer much more efficiently. Once they properly adhere to the part of the body being treated, they stay secure with a body band. Body bands come in two sizes to ensure maximum comfort for the patient.
Those body bands mean that the doctor does not physically control the applicators. Once the doctor ensures the patient's comfort, checks the device to confirm accuracy and process, then the doctor possibly leaves the room during treatment. Notably, patients control their comfort. A button exists that a patient presses at any time to modify the energy modulation and adjust to the perfect comfort level.
Body Contouring Is Similar to Laser Treatment
Essentially, PHYSIQ acts similarly to laser treatments. However, those who experience body contouring know that no heat spikes exist. Instead, the skin reaches a therapeutic temperature, and maintains this same temperature throughout the entire treatment. The simultaneous contact cooling from the SDM makes it so the skin's temperature rises very minimally.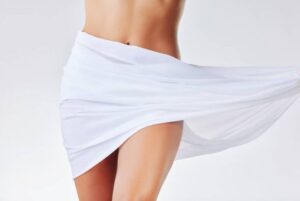 PHYSIQ treatments take less than an hour with no downtime required following the session. Schedule an appointment conveniently on your lunch break!
Of course, Following a good diet and engaging in regular exercise complement a toned body. PHYSIQ helps when you've reached a plateau in your fitness plan. Perhaps those extra couple of pounds plague you, and if so, contact Fox Vein & Laser  Experts to schedule a session or two. For optimal results, Dr. Susan B. Fox highly recommends continuing your fitness and healthy eating regimen. Use PHYSIQ as a supplement to that lifestyle.
Contact us at Fox Vein & Laser Experts
For more information and to book a consultation with the team at Fox Vein & Laser Experts, call us today at 954-627-1045.