Laser Hair Removal For Eyebrows
Eyebrows Laser Hair Removal
Laser hair removal is a game-changer, especially for those who find themselves needing to shave their legs, underarms, bikini area, etc. on a daily basis or are spending more money than necessary on waxing every couple of weeks. No more shaving; no more waxing; no more tweezing or plucking; and no more ingrown hairs or razor burn! 
Laser Hair Removal is a Safe Hair Removal Method
Miami Laser hair removal is a safe, effective, and pretty much pain- and symptom-free alternative to all of those other annoying hair removal methods. At Fox Vein & Laser Expert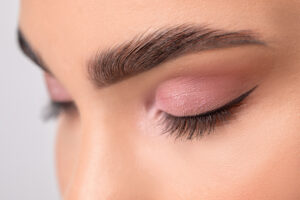 s, we use the gold standard in laser hair removal devices: the GentleMax Pro® puts other laser devices to shame. It works strongly enough to destroy hair follicles and leave your skin smooth and hair-free, but because of how quick the pulses of laser energy are emitted, the treatment is much more comfortable than you might think. Patients may experience light and warm prickling sensation, and there is the possibility of some soreness and redness following a treatment, but not to worry — this will be gone before the day is over!
GentleMax Pro
The GentleMax Pro gets its name because it is exactly that, gentle. There is no need to fear laser hair removal when you come to Fox Vein & Laser Experts because you know you will be getting the best of the best when it comes to advanced laser technology
Laser hair removal can literally be done anywhere on the body. Some of the most popular areas of the body are the underarms, bikini/Brazilian, and legs, but our laser hair removal experts have also treated patients for arms, upper lip, neck, nose, ears, chin, buttocks, abdomen, feet, toes, and even eyebrows! Yes, you can perform laser hair removal for eyebrows, more specifically to remove any hair between the two brows, known as a "unibrow." 
Eyebrow maintenance can be a burden. Waxing is quick but can sometimes be painful, and threading is even worse. Tweezing is probably the least painful, but it also takes a lot of time, and can also leave your eyebrow area looking red. There is also the potential for ingrown hairs if you are not plucking properly. 
Few Key Things to Know About Laser Hair Removal for the Eyebrows
While laser hair removal is not recommended for actually shaping or sculpting your brows, you can absolutely do it to get rid of any random hairs that grow above or below the brow line and to permanently destroy that unwanted hair in the middle of your two brows. You will never have to feel self-conscious about your unibrow ever again! 
Before booking your first appointment with us, here are a few key things to know about laser hair removal for the eyebrows:
A) You need to stop waxing and/or tweezing about six weeks before that first appointment. This is because the effectiveness of laser hair removal depends on the laser targeting the hair shaft in its entirety. Basically, it needs to be fully intact down to the root.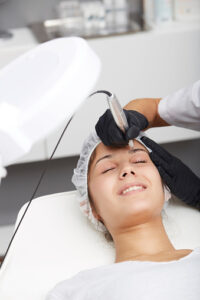 B) You can shave the area if it's that bad because shaving simply takes off the top of the hair follicle, it doesn't affect the root. However, during that first appointment, it might be a good idea to leave the unibrow unshaven, so our laser technician knows what she is working with. After that, shaving between appointments is fine.
C) Exfoliating about a week before your treatment is ideal, and we highly suggest staying out of the sun or at least making sure to wear SPF and maybe even a hat too, for a week before your appointment. This is also true for the week following the appointment, as your skin will be extra sensitive after undergoing the laser treatment.
D) The session will take no longer than five minutes. It's very quick, painless, and there is no downtime following the appointment. The laser technician will apply cooling Aloe Vera gel to the treated area immediately after the laser is complete. This helps to soothe the skin and reduce any redness.
Contact Fox Vein & Laser Experts for Eyebrows Laser Hair Removal
Eyebrows are such a prominent feature, they deserve to look the best! Browse shape the face, and can even help express emotion. Having unwanted hair connecting the two brows, and other rogue hairs surrounding the brow line, can be embarrassing and cause self-consciousness. If you are frustrated with your unibrow, it's time to take control! Call our office today at 954-627-1045 and schedule a consultation with our laser experts.