Can Laser Hair Reduction Burn your Skin?
Laser Hair Reduction Burn your Skin?
Removing hair from the body can be a good way to reduce large amounts of body hair that are unseemly. Getting laser hair removal is often the way many people go to get rid of the hair. Eliminated from the hair follicle itself; the hair removal success often brings its problems.
About Laser Hair Removal
Laser hair removal Miami concentrates a light beam directly on the hair follicles. The light beam destroys the hair. Lasers are very good for precision hair removal. The procedure can target the hairs and the follicles.
What is the Laser Hair Removal Process?
Laser Hair Treatment from body is safe for the skin according to doctors. The procedure that directs the pulsing laser towards the hair follicles is quick and entire sections of hair covered skin takes seconds; though the back of the legs can take up to an hour.
There are risks associated with Hair Removal from Body. Laser hair removal patients are required to forgo treating the hair before the removal. It prevents the skin from damage during the procedure. Preparation for the procedure can take up to 6 weeks.
It is also advisable to remain out of the sun along with not using products on the skin before the procedure. Hair Removal from Body does cause damage to the underlying layers of skin. Laser Hair Removal from body is not without its risks.
What to Expect
Hair trimming occurs just above the skin before the procedure begins. Depending on the location of the hair, eye protection is appropriate. Protection of the skin involves smoothing gel across the skin before the procedure begins.
The technician directs a pulsing beam towards the hair follicles for several minutes. The laser smoothly directs across the directed area.
After the procedure
After the procedure, the hair is lost throughout the coming month. Sunscreen is required for after treatment. Complications will arise at this time. Blisters, swelling, redness and even scarring are possible after the procedure.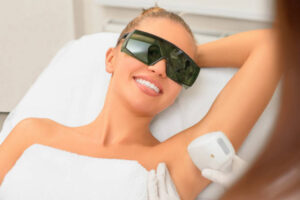 Cooling the skin occurs during the procedure, but this does not spot the skin from taking damage from the laser as moves across it. The temperature of the skin is kept as low as possible, but this does not always help and as skin is sensitive and Laser Treatment does burn the skin if it is not properly done.
Contact Our Miami Laser Hair Removal Experts
At Miami Vein Center our  Dr. Susan Fox is here to serve you better.  If you'd like more information about our practice or are interested in scheduling a consultation appointment with us, contact us today!