How To Reduce Redness After Laser Treatment
Will My Skin be red after the treatment?
This is one of the many questions patients often ask prior to experiencing a laser treatment. We understand that post-treatment side effects are a main concern of most patients here at Fox Vein & Laser Experts. You may be visiting us for your treatment during your lunch break at work, in between errands, before going on vacation, or simply just do not want to be burdened with down time following whatever laser treatment you have just had one.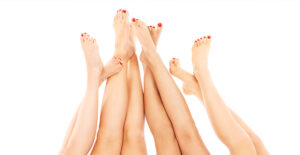 We get it, and we don't want you to experience any downtime either! That's why our expert team is here to assure you that the laser treatments performed in our office are so minimally invasive that they are followed by very little to no down time. Now, this is not to say that there will be zero redness following the treatment. Depending what kind of laser treatment you have done, redness can vary from virtually non-existent, to lasting for weeks — but don't fret, there are ways to reduce redness if it does in fact last longer than desired.
Let's talk about some of the various laser treatments offered at Fox Vein & Laser Experts and how to reduce redness, if necessary.
Laser Hair Removal
We use a state-of-the-art machine called the GentleMax Pro® for all our Miami laser hair removal treatments. The majority of our patients who come in for laser hair removal are pleasantly surprised at how little this treatment hurts. This quick and relatively pain-free treatment can be done anywhere on the body, and works on all skin tones and types. Not all patients will experience redness after a treatment. It really depends on how sensitive your skin is, how thick or coarse your hair is, or where exactly the treatment was performed on the body. However, for those that do see redness, it disappears within a few hours.
PicoWay Tattoo/Scar Removal
The PicoWay® laser is the industry standard laser for tattoo removal. It's faster, more effective, and much less painful than other traditional tattoo removal options. It works on all skin types to remove tattoos of all colors. While the treatment is not too painful, we still offer numbing options for patients who prefer not to feel anything at all. Numbing creams or cryogenic devices can also help to reduce redness or irritation that may occur from the treatment.
PicoWay Scar Removal 
The PicoWay® laser can also be used for scar removal, including scars resulting from acne, surgery or injuries. As with tattoo removal, it can be used on all skin types, and is a faster, more effective, and less painful option than other treatments available. There is little to no downtime after the procedure.
Laser Facial for Aging/Skin Rejuvenation
The PicoWay® Resolve laser is used to improve the appearance of skin, which includes treatment for wrinkles and fine lines, pigmented lesions, discoloration, and other visible signs of aging on areas of the body such as the face, neck, and hands. This laser delivers high-quality aesthetic improvements to our patients that are quick, simple, and feature little to no downtime or unpleasant side effects. When a patient comes to see us looking for a skin rejuvenation laser treatment, we know they will be happy with the results they get from PicoWay® Resolve.
To reduce the redness that may appear after any of these laser treatments have been performed, apply aloe gel, hydrocortisone cream or Neosporin immediately after the treatment is over. You could also apply a cold compress or ice pack to the area that was treated.
The laser equipment mentioned here are all known for minimal discomfort and/or side effects, so there is always the possibility that patients might not even experience redness at all — but if you are still worried about how your skin will look following your laser treatment, Dr. Susan B Fox and her team of laser experts are happy to answer any of your questions.
Contact Fox Vein & Laser Experts
At Fox Vein & Laser Experts, we pride ourselves in how comfortable and confident we are able to make our patients feel about their treatments before getting them, and how happy they are with their results afterward. Contact our office today at 954-627-1045 to schedule a consultation and discuss the various options for laser treatments available to treat your specific needs.