How To Remove Dark Spots Caused By Pimples
Pimples are frustrating and embarrassing enough, and sometimes they even hurt… Who wants to deal with spots that are left behind in their place too?! No one, that's who!
At Fox Vein & Laser Experts, we understand the pain, discomfort, and self-consciousness that can come as a result of suffering from acne and dark spots on the skin that are caused by these pimples. It is important to note that the dark spots caused by acne are treated differently than actual scars that are caused by acne. Those visible scars show that there has been actual damage to the tissue. Spots, on the other hand, are not indicative of skin or tissue damage, or even any damage to the pores of deeper follicles within the layers of skin.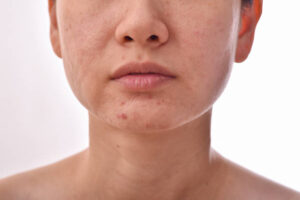 These are simply dark spots on the outermost layer of the skin. They lay flat on the skin's surface, and while it is possible for these spots to fade and disappear on their own, sometimes their presence is a major cosmetic concern, and people prefer to get rid of them much faster than they'd clear up on their own.
Just to note… Dark Spots are not harmful, nor do they need immediate attention; however, if you notice any abnormal changes to the color or texture, or if the dark spots appear in places like the nose, palm of the hands, fingers, mouth, anus or vagina, you should alert your doctor and have the spots check out.
Safe and Effective Treatments for Dark Spots Removal
There are some over-the-counter products that might help, and Dr. Susan Fox and her expert medical team would be happy to go over these options with you to recommend the most effective and safe option(s) for you. However, we offer various skin care services that are specifically meant to address these dark spots you're experiencing because of pimples. Not only do these treatments help to dull the appearance of these dark spots, but they also make your skin look brighter, softer, smoother, and more youthful.
These treatments include:
Chemical Peels: The Rejuvenize Peel Treatment is top of the line in skin rejuvenation. It works to gently remove the top layer of skin using special types of acids that have been developed as a safe and effective treatment for the skin, including beta-hydroxy acid, alpha-hydroxy acid, salicylic acid, lactic acid and retinol acids. This chemical peel is safe, and provides optimal results with no discomfort or downtime. Aside from treating acne spots, it can also treat fine lines, skin discoloration, scars, skin sagging and texture issues, and it can tighten pores.
Microneedling: We offer VirtueRF microneedling as an option to help even out skin tone and decrease the appearance of age and acne spots, as well as freckles, melasma and sunspots. Best results are achieved after going through a series of treatments, but there is no discomfort or downtime, and it's a quick and painless process! Microneedling helps to build collagen and elastin in the skin, which will also tone and tighten, smooth and brighten, and give your skin a youthful glow.
PicoWay® Resolve: This laser treatment is excellent in revitalizing and rejuvenating the skin. It's a non-surgical option for spot removal that only takes about 20 minutes per session. Here's how the laser works to get rid of acne spots: short, quick beams of concentrated light are aimed at the area of skin being treated. These incredibly short beams of light are powerful enough to break up the pigmentation, which then dissipate into the body to be naturally removed. The dark spots will fade, and healthier, more even toned skin will be in its place.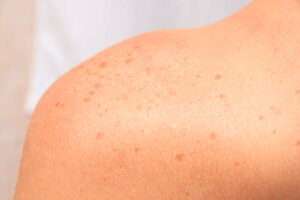 Another tried and true way to protect your skin from dark spots is to always wear your SPF! We recommend wearing at least 30 SPF every single day, regardless of whether you will be in direct sunlight or not. Our favorite SPF brand to use is EltaMD. Ask our team about purchasing this product when you come in for your dark spot treatment!
Contact Us at Fox Vein & Laser Experts
Give us a call at 954-627-1045 to schedule a consultation with our team. We will go over your health history and goals, and determine which dark spot treatment is the best for your individual situation. With Fox Vein & Laser Experts on your side, you will achieve bright, beautiful, spot-free skin in no time!