Is Laser Hair Removal More Painful Than Waxing?
Laser hair removal versus waxing… Which do you think is less painful, more efficient, and more effective? Let's take a look at these two popular hair removal methods and see which one takes the win in the Battle of the Bare Skin!
The main difference between laser hair removal and waxing is the way in which the hair is actually removed. Laser hair removal works by emitting energy that destroys the hair at its deepest core: its follicle. Once the follicle has been hit with enough of this powerful light energy after a certain amount of sessions, the follicle will no longer produce hair at all.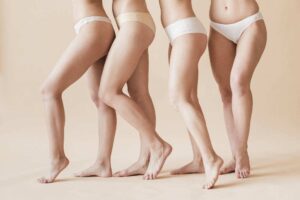 Waxing simply strips the hair from the skin, leaving it smooth and bare for only a couple of weeks, if that. Like with shaving or tweezing, the hair will grow back and it's only a matter of time before you need to make another appointment.
Permanent Hair Removal Solution than Waxing
Overall, laser hair removal is much more of a permanent hair removal solution than waxing. If you want to be hair-free for good, it makes more sense to go the laser route. With waxing, be prepared to make ongoing regular appointments every month, or sometimes even more than once per month, without any end in sight.
This also means you are spending money on waxing every few weeks, for an unprecedented amount of time, whereas with laser hair removal, after a specific number of treatments, you are done. No more sessions, no more payments. While laser hair removal might be more expensive upfront, it is well worth it in the long run. Laser hair removal can take a year or so to complete, depending on the area of the body being treated and the thickness/amount of hair, but it still makes more sense to invest in permanent hair removal than spending money every month and the hair just keeps going back.
Laser Hair Removal Technology
If pain is your main concern, Fox Vein & Laser Experts is happy to report that we use the gold standard in laser hair removal technology, and it is virtually pain-free! The GentleMax Pro® offers patients a much more comfortable, longer-lasting alternative to any other hair removal technique. The device emits such strong, yet short, bursts of energy that the laser barely makes contact with the skin during the process. This means that heat from the laser is not lingering on the skin, which is what made older laser methods more painful and uncomfortable.
Getting Laser Hair Removal with the GentleMax Pro
We often hear from our patients how totally surprised they are at how little pain they feel when getting laser hair removal with the GentleMax Pro. The treatment itself can be described as feeling like tiny little heated pin pricks or rubber band snaps, but without any pain or discomfort during the session. It's much more tolerable than having hot wax smeared on your skin and then being ripped off by a cloth or wooden stick. No matter how experienced a wax technician is, or how good the medspa is where you are going for a waxing appointment, the act of waxing can be, and usually is, very painful and uncomfortable, especially on very sensitive areas of the skin.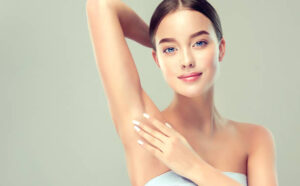 When it comes to those extra sensitive areas, such as the bikini line or upper lip, numbing creams can be applied before laser hair removal treatments to help anyone with a low tolerance for pain. Our laser hair removal team recommends applying a numbing cream up to 30 minutes prior to the treatment. Some areas are much more sensitive than others, and the cream helps to completely alleviate any risk for discomfort, tickling sensation, etc.
Laser Much Less Painful Than Waxing
Not only is laser much less painful than waxing, but it's also so much quicker! Laser hair removal sessions can be as fast as five minutes, depending on the size of the area being treated. Waxing appointments can sometimes last over an hour! This is not ideal, especially for people with busy lives who want to make an appointment during their work lunch break or between errands.
So it appears that, without question, laser hair removal comes out on top as the winner between these types of hair removal techniques. It's much less painful, produces longer-lasting and more permanent results, and is better on your wallet in the end.
Contact Fox Vein & Laser Experts
If you are still up in the air about whether to go with laser or waxing for hair removal, we highly recommend booking a consultation with our team of experts so they can answer any concerns or hesitations you might still have about laser. Give our office a call at 954-627-1045 and let us help you make the best decision to get you smooth, hair-free skin!