How Many Sessions for Laser Hair Removal
Sessions for Laser Hair Removal
Laser hair removal is likely one of the top aesthetic treatments done, especially in South Florida. With the sun constantly shining and skin-baring clothing basically a wardrobe staple for both men and women, smooth and hair-free skin is a must-have. The benefits of getting laser hair removal are abundant! For one, those days of daily shaving or tweezing and monthly waxing are long gone, razor bumps and ingrown hairs are a thing of the past, and even though you might think laser hair removal is more expensive than these other methods of hair removal, in the end, you will absolutely end up saving a lot of money!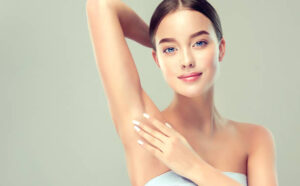 We get a lot of questions from our patients when they come in for their first laser hair removal treatment. One of the most commonly asked is how many sessions does it take? We typically suggest four to six sessions throughout the course of about twelve months, with each appointment six to eight weeks apart, but sometimes we find that patients do need a few more. We also recommend scheduling maintenance appointments every once in a while after that initial group of sessions.
However, like with the majority of all cosmetic treatments, no two situations are exactly the same. When it comes to the amount of laser hair removal sessions needed, there are a few key factors that come into play: a patient's skin tone, hair color, and hair texture. Although these things may dictate how many sessions are needed in order to thoroughly destroy the hair follicles, there is one thing to remember: regardless of what skin tone, hair color, or hair texture you have, the advanced laser hair removal technology used at Fox Vein & Laser Experts does work!
GentleMax Pro® Laser for Hair Removal
In the past, laser hair removal devices were not as effective on patients with darker skin. This is not the case with the GentleMax Pro®, Fox Vein & Laser Expert's choice laser device for all hair removal. The device can be used all over the body, including the legs, underarms, face, arms, feet, bikini line, back, buttocks, chest, chin, ear, nose, unibrow, and neck.
Here's how the GentleMax Pro works: The device uses dual-wavelength technology to deliver direct bursts of energy onto each area of skin where the hair is to be treated. The energy passes through the outer layer of the skin and targets the hair follicles at their core. Each hair follicle then absorbs the energy and begins to break. During each session of laser hair removal, the follicle is targeted and broken, again and again, eventually becoming destroyed entirely. At this point, the follicle no longer has the ability to produce hair. After a series of hair removal has been completed and all of the follicles in a particular area of the body have been destroyed, the skin is left smooth, hair-free, and ready to be shown off!
Laser Hair Removal on Patients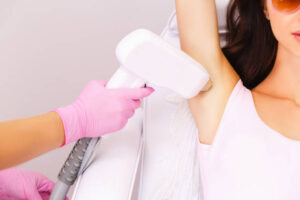 The laser experts at our Hollywood office have years and years of experience performing laser hair removal on patients, with successful results each time. Patients are always in disbelief at how little pain or discomfort they feel during their sessions. There is no downtime following the treatments, and our aestheticians are always doing their part to make sure patients feel comfortable and at ease throughout the session.
Special protective goggles are worn by both the aesthetician and the patient, and if you are worried about any pain, we do have a numbing cream available that can be applied about 30 minutes prior to the treatment. Following the treatment, we apply a cooling aloe vera gel to calm any redness or bumps that may arise; however, many patients don't experience any kind of side effects.
Contact Us at Fox Vein & Laser Experts
Laser hair removal with the GentleMax Pro is quick, easy, painless, and incredibly effective. That is why Fox Vein & Laser Experts is proud to offer this state-of-the-art technology to our patients all over Broward, Palm Beach and Miami-Dade counties. If you are ready to go hair-free in South Florida, give us a call today at 954-627-1045 to schedule a consultation with one of our team members.