VeinGogh for Spider Vein Removal
When it comes to finding a knowledgeable doctor who specializes in vein removal treatment in Miami, you're going to want to select the Fort Lauderdale vein removal doctor who offers a multitude of ways to help you treat your vein issues.
More specifically, you're going to want to find a doctor, like Dr. Susan B. Fox of one of Florida's top vein removal centers, Fox Vein & Laser Experts, who offers a vein removal treatment like no other, and one that is not just designed for your lower extremities:
VeinGogh, a leader in the treatment of Spider Veins.
Dr. Susan B Fox, D. O., RPVI, FSVM is an expert in vein and vascular diagnosis and treatment. She is Board Certified in Internal Medicine, Vascular Medicine and Phlebology (the treatment of veins). She was one of the first physicians in the United States to be Board Certified in the treatment of veins. As well, she is a Registered Physician Vascular Interpreter (RPVI) and is certified to read vascular ultrasound studies.
"When I first established Fox Vein & Laser Experts in South Florida, it was my goal to offer everyone the opportunity to treat their veins and complications from venous disease. With some of the best vein removal treatments, such as the VeinGogh, we're making this a reality every single day," Dr. Fox says.
And this is a very good thing.
Because according to the National Center for Biotechnology Research, an estimated six to seven million people in the United States have an existing diagnosis of advanced venous disease and meet diagnostic criteria for chronic venous insufficiency. Results across studies suggest that in the general population between 1% to 17% of men and 1% to 40% of women may experience chronic venous insufficiency. Additionally, among all chronic venous insufficiency patients, approximately 1% to 2.7% will develop a venous stasis ulcer. Management of chronic venous insufficiency accounts for approximately 2% of the United States total healthcare.
Venous disease, otherwise known as venous insufficiency, is improper functioning of the vein valves in the leg, causing swelling and skin changes. Venous disease can result in everything from smaller, less painful spider veins to more prominent varicose veins which are terribly unsightly and cause everything from itching to throbbing pain.  For patients who have ignored their varicose vein for too long, ulcers begin to present themselves, causing bleeding, oozing, discharge with odor, and extreme discomfort.
How do these Spider Veins even come about?
Spider veins on the legs can be caused by a number of factors, all resulting in the backup of blood. Spider veins are common in people who:
Stand or sit for long periods of time in a day
Have a family history of spider veins
Abuse the sun
Smoke
spider veins on face removal Miami also caused by abusing the sun, smoking, and hereditary factors, as well as using harsh scrubs, changes in weather, harmful irritants in skincare products, and pregnancy.
This is where the VeinGogh comes in.
While other spider vein treatments consist of lasers or light therapies, VeinGogh is uniquely designed with Ohmic Thermolysis technology to quickly and instantly eradicate spider veins without damaging or scarring the skin surface. Using a revolutionary frequency regulator called Microburst Technology, VeinGogh comfortably and gently heats targeted vessels, collapsing vessel walls and rerouting blood through healthy veins while leaving healthy skin and tissues intact.
This high-frequency electrical energy is delivered via a hair-thin probe, creating a comfortable treatment that is safe for all skin types and has significantly less risk of visible scarring.
Of course, while there are other select vein removal treatments we administer at Fox Vein & Laser Experts, there are some pretty distinct benefits to undergoing a VeinGogh treatment.
Dr. Fox says, "This is one of our faster vein removal treatments that we offer. Patients who are treated for their spider veins with VeinGogh will typically be in an out of the office in under a half hour, which is really appealing to our demographic of patients."
Aside from being a quick in-and-out vein removal procedure, the VeinGogh boasts other awesome benefits such as:
A 60-70% success rate for the removal of spider veins.
Immediate results, with improvement over time, as the veins are absorbed and removed by the body.
Treating areas of the face as well, including the nose, ears, and neck.
And even more, the VeinGogh treatment is perfectly safe to be used in tandem with another typical vein removal method, sclerotherapy. When VeinGogh is administered in conjunction with sclerotherapy, a method of vein removal that involves small injections of saline solution into the affected veins, you're packing double the punch and thus intensifying results.
The more the merrier.
So, how do you know if you're a candidate for one of our coveted VeinGogh vein removal treatments?
When you visit Fox Vein & Laser Experts in Hollywood or Pembroke Pines, your initial consultation will help us to determine which vein removal procedure is right for you. We will evaluate factors such as your medical history, health, and individual condition in order to determine the best course of treatment. Some types of veins, such as feeder and larger varicose veins, may not be able to be treated with VeinGogh. The treatment options that are available to you will be discussed during your consultation.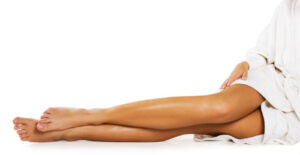 VeinGogh is ideal for smaller, less prominent spider veins on the legs, arms, and even face! Many patients find that with age, come unsightly clusters of small, reddish or purple veins on and around the nose. This is exactly what VeinGogh was made to treat, and treat so well, and with little discomfort.
Speaking of discomfort, you're likely wondering what a VeinGogh treatment feels like.
Because of its hair-thin probe, the VeinGogh may be the most comfortable vein removal treatment of them all. Some have even ranked the pain scale of this treatment at a 2 or 3, versus an 8 or even 10 for some of the others. You can literally resume normal activity immediately after leaving our office – making the VeinGogh a true winner in the world of vein removal.
To meet with a Fox Vein & Laser Experts vein doctor Miami for your vein removal consultation, contact us today or visit our website to learn about all of the different vein removal treatments available to you in our Pembroke Pines or Hollywood offices.