"Does Tattoo Removal Hurt?" and Other Tattoo Removal Myths Debunked
Whatever your reason is for wanting to remove the tattoo(s) on your body, Fox Vein & Laser Experts can provide you with the best tattoo removal treatment in Miami, one that is fast, safe, and more effective than other methods. But before we jump headfirst into laser tattoo removal and schedule your first appointment with Dr. Susan Fox, an expert in laser and vein removal in Miami, we'd like to debunk the top three myths that might have you feeling a little apprehensive.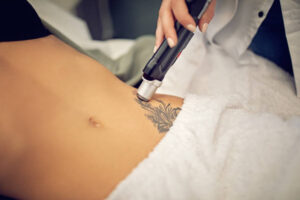 Tattoo removal = Surgery.
Nope! That is 100%, not the case. You do not need to go under the knife in order to have those unwanted tattoos removed. Like we mentioned earlier, Fox Vein & Laser Experts offers the best laser tattoo removal treatment in Miami, but it doesn't involve any surgical procedure whatsoever. The PicoWay Laser treatment works on all tattoo colors, shapes and sizes, as well as on patients of all colors and skin types. If surgery has your mind running in circles with fear and anxiety, let our expert team calm your nerves and introduce you to the latest and greatest in laser tattoo removal.
You'll be scarred for life.

Another big, fat nope for this one too! In fact, with PicoWay, it's exactly the opposite, as this particular laser can be used to actually treat scars. Benefits of Laser tattoo removal with PicoWay provides patients with a comfortable experience, because the skin is never exposed to the laser energy and heat for prolonged amounts of time. You may feel a small amount of pain during the treatment, but there is a topical anesthetic that can be used to ease any discomfort. There is also no downtime associated with the PicoWay laser, which means you can go right back to your regular routine shortly following your treatment.
Treatments will go on forever.
A third nope! With the PicoWay laser, treatments are much faster than traditional methods and require fewer sessions. Past treatments meant spending countless hours in the doctor's office, wasting away time and energy (and not to mention dollars), even for the tiniest of tattoos. Thankfully, technological advancements in the skincare industry have made it so patients do not have to endure long, drawn-out processes. The revolutionary PicoWay laser provides fast results. Each patient's skin is different, as is their tattoo being treated, so of course not every case is going to have the same outcome. Our expert staff will help determine how many treatments you will need, depending on your skin type and color, tattoo color(s), age and tattoo size.

Did we make you feel better about having your tattoos removed? Hopefully by busting these myths, we've been able to quell any anxious thoughts or feelings you have about the procedure. If you still have questions or concerns, feel free to reach out to our offices in Miami, Pembroke Pines or Hollywood at any time to schedule an appointment with one of our medical professionals on staff.
Removing something that once felt like a permanent fixture on your body can be a scary thought, and we want you to feel completely at ease when you walk into the offices at Fox Vein & Laser Experts, Vein center Miami. Contact us today to schedule your first appointment.