The Reasons Why Men Should Go For Laser Hair Reduction
Laser Hair Removal For Men
While grooming has always been popular for both sexes, hair removal was originally a man's game. Though it's been decades, shaving was solely considered "normal" to do on a man's face. He either went to a barber or did it himself with a straight blade.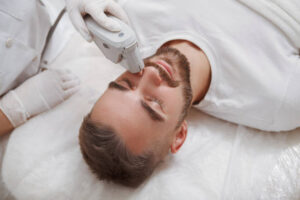 Over time, shaving and waxing almost all parts of the face and body have become an everyday occurrence and it has been largely geared towards women. Yet we find once again that a shift is happening in both gender styles and in the methods used.
Smooth, hairless bodies have been, and look to remain "in" for quite a long time. Fortunately methods of removing hair have changed as much as the trends. Focusing on men, there are many benefits to getting laser hair treatment.
Laser Hair Removal From Body

There are all standard wordings for the common procedure of permanently getting rid of unwanted hair via laser. Men generally have a larger surface area of hair to be removed. Not to mention they are usually just hairier. No one wants to shave nearly their whole bodies every day!
Men can achieve the sexy smooth look they desire while relaxing and allowing professionals to do the pain-free procedures. Let's face it, waxing hurts no matter who you are. Is there anything more simple than sitting back and enjoying the calm atmosphere while basically being a little pampered.
Feel the confidence you should. No more embarrassment when swimming, exercising or wearing a fitted shirt. Say "see ya" to unsightly hair on your chest, back, eyebrows, armpits, and anywhere else.
Excite your partner with a newly groomed image. Everyone enjoys a little change from time to time. Changing up your body hair is a brilliant way to do just that.
If you are still unsure that Laser Hair Removal from the body is right for you, do a little research by asking around your peers. Chances are many people you know have given it a try and loved it.
Contact us at Fox Vein & laser Experts
To know more about laser hair removal Miami For men. Please contact us at Vein Center Miami, our  Dr Susan Fox is here to serve you better.