Vivace Microneedling Vs. Infini and SkinPen
Microneedling Non-Surgical Skincare Treatments
Microneedling came onto the skincare scene back in 1995, and has become one of the most significant non-surgical skincare treatments on the market due to its ability to improve the appearance of scars or wrinkles, boost collagen, and even encourage hair growth. As microneedling has become increasingly popular, technological advances have produced multiple different kinds of devices to use, some better and more effective than others. If you are in search of microneedling in Miami, it's important to know the difference between these devices and treatments available when booking your skincare appointment.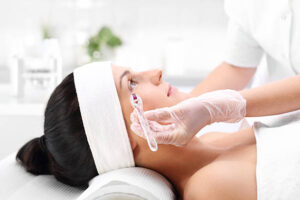 Vivace RF Microneedling Minimally Invasive Procedure
Dr. Susan Fox, an expert Miami vein doctor, has recently added Vivace RF Microneedling to her broad range of minimally invasive proceduresat Fox Vein & Laser Experts, a highly rated vein and laser center in Miami. This FDA-approved device works to contour and tighten the face, neck, hands and body — and even better, results can be seen right away. Our clients who have experienced Vivace RF Microneedling walk out of our offices with a smile on their face, satisfied with seeing a noticeable difference after their first treatment. But don't stop there — the results will keep getter better and better as you continue your treatments. Vivace RF Microneedling uses radio frequency to create the heat that is needed to stimulate the collagen production that produces glowing, tighter, more youthful looking skin. It reduces the appearance of fine lines, wrinkles and pores, and improves the skin's tone and texture. Vivace RF Microneedling is pain-free.  If you are pain "phobic" a numbing cream can be applied to the skin 30 to 45 minutes before treatment begins, which makes for a very comfortable and almost relaxing patient experience. There is also zero downtime needed after the procedure.
Infini Microneedling Device
The Infini is another microneedling device available that also uses radio frequency to stimulate natural production of collagen in the body. The Infini is FDA-cleared for the treatment of wrinkles on the face. Unlike Vivace, Infini is extremely painful and has at least a 24-hour window for downtime.
Microneedling Treatmnt with Skin Pen
Another option for microneedling, without radio frequency, is the SkinPen, an FDA-cleared, safe and effective tool that supports the skin's natural healing process to help reduce and smooth out fine lines and wrinkles, and also works well to get rid of acne scars. So what's the difference between the SkinPen and the Vivace? With the SkinPen, you may not see results until you've gone through at least three treatments(recommended at four weeks apart), but it could be as many as eight depending on how much attention your skin needs. There is a little bit of downtime involved as well, as the skin will have a light pink color to it for two to four days. If you have darker skin, there could be some hyperpigmentation seen as well.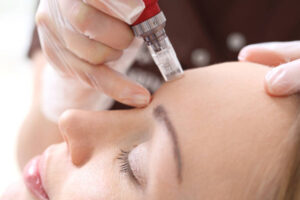 Still not sure which of these microneedling devices is the one for you? When it comes to microneedling in Miami, vein center Miami recommends Vivace RF Microneedling as the number one choice. Now that we have this treatment available in our office, it's time for you to come give it a try.
Contact us at Our Offices in Pembroke Pines and Hollywood today to schedule an appointment.