History of Microneedling
Microneedling Skincare Treatments
Microneedling has become one of the most talked about skincare treatments in the industry. Skincare in Miami is on everyone's mind, and when there's hope of bright, beautiful skin at the end of the tunnel, you can bet everyone is jumping on the bandwagon.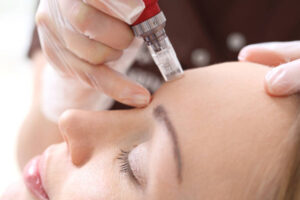 It's a successful, proven procedure, especially when you're working with Vivace RF microneedling Miami, which is offered here at Fox Vein & Laser Experts. It shows immediate results, feels like nothing more than a slight prickling on the surface of the skin, and requires no downtime whatsoever.
About Microneedling
But what is microneedling? Where did it come from, how was it developed? Let's get to the bottom of this aesthetic treatment, currently one of the most popular skincare treatments in Miami.
Microneedling dates back over one hundred years. Back in 1905, a German dermatologist first used a technique involving the use of rotating wheels and rasps which helped treat acne scars, keratoses and hyperpigmentations of the skin. Years later, in 1996, a Canadian plastic surgeon discovered that puncturing skin with tattoo needles results in improved facial scar tissue, and that same year, another plastic surgeon introduced a needling device that he used to stimulate collagen production in his patients. This particular doctor, Dr. Des Fernandes, is the pioneer of this skin needling technique that is now known as the safest and most effective way to bring life back into our skin. Professor Horst Liebl was the microneedling inventor.
Why Our Doctors Prefers Vivace RF Microneedling
There are so many reasons why Dr. Susan Fox, an expert Miami vein doctor, prefers Vivace RF microneedling. This revolutionary microneedling technology is FDA-approved to treat the face, neck, hands and body. The non-invasive skin tightening procedure helps to reduce fine lines, wrinkles, scars and stretch marks, lift and firm sagging or loose skin, and add a smooth, youthful glow.
Vivace RF microneedling works more quickly than other microneedling methods because of its integrated radio frequency energy, which speeds up the body's natural production of collagen and elastin. The LED light used also helps to calm any inflammation or redness, resulting in a much faster healing time. The serum applied immediately after the treatment holds specific nutrients that are key in helping to build that new collagen and elastin at a rapid speed. The reason the serum is able to be absorbed into the skin so quickly is because of the "microchannels" created by the needles on the device.
Results After Microneedling Treatment
You'll see results even after one treatment, but you'll even better results will occur after three. Your skin will be noticeably smoother, much softer, and brighter. Many other microneedling methods require up to six or more treatments in order to get results as astonishing as what you see with Vivace RF microneedling.
There is an option to apply a numbing cream 30 minutes prior to treatment if you are worried about pain, but trust us – you'll feel relaxed before, during, and after this incredible skincare treatment . There is also a soothing mask applied post-treatment to help calm and cool the skin, and minimize any redness. While it's recommended not to wear makeup or sweat for 24 hours after getting the treatment, you can go about business as usual. We also recommend applying sunscreen liberally to protect the skin.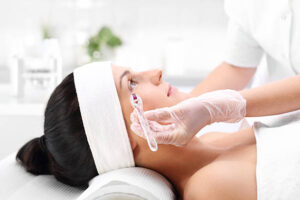 Vivace RF microneedling is a skincare treatment that is definitely here to stay. It's time for you to experience the glow, and let that fresh face shine bright for all the world to see!
Contact us at Fox & Vein Experts
To schedule your Vivace RF microneedling appointment, contact our vein center Miami today and let our expert team work their magic.