The Best Microneedling in Miami is HERE!
Microneedling Treatment
The latest and greatest in Miami best skincare treatments is now available at Fox Vein & Laser Experts. Get ready to experience in a whole new way with Vivace, an advanced, FDA-cleared device that is used for contouring and tightening the face, neck, hands and body.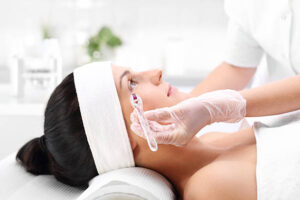 What is Vivace – Non-Surgical Treatment?
At Fox Vein & Laser Experts, we are committed to bringing our clients the best skincare treatments in Miami, and Vivace certainly is one of them. For starters, this non-surgical treatment shows results immediately. You'll see a noticeable difference in your skin after just one visit, and results only get better the more often you come in for a treatment. Vivace works by stimulating the body's natural production of collagen to reduce fine lines and wrinkles, tighten the skin, minimize pore size, and improve skin tone and texture. This new type of microneedling treatment uses radio frequency to provide the heat needed to stimulate the collagen production, which leads to skin that is tighter and more youthful-looking. The device has 36 insulated gold-tip needles and a robotic controlled hand piece that creates fast, even and extremely precise insertions into the skin.
The Vivace provides a totally comfortable experience for all patients; there is no pain involved whatsoever. All you may feel is a slight, occasional spark with light pressure on the face. To help decrease any discomfort, a Personalized Compounded Numbing Cream is applied about 30 to 45 minutes prior to treatment. Vivace is a great option for any type of skin, of all colors. The entire process, including the application of the numbing cream, is about an hour and a half, and should be completed in three treatments, spaced approximately four to six weeks apart. As we know, no one's skin is exactly the same, so results may vary depending on an individual's collagen and elastin production.
What is the Recovery Process After Microneedling?
After the procedure, there are serums and recovery protocols recommended to help with the recovery process. These include the Boost Glide Serum, Soothe Weekly Mask and Soothe Recovery Spray, Cleanser and Balm.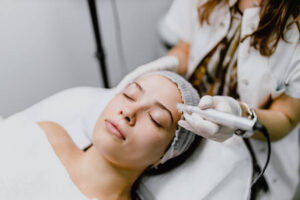 For best results, it's recommended to stay out of the sun and refrain from exercise for three to five days following treatment. Other than that, there is no social downtime after a Vivace treatment; patients will be able to go about their day with no hiccups and no evidence that they even went through the treatment that day.
Dr. Susan Fox, an expert Miami vein doctor, has recently added microneedling with Vivace to the broad range of effective, minimally invasive skincare and laser treatments offered at the Pembroke Pines and Hollywood locations of Fox Vein & Laser Experts that help with all kinds of skin issues and concerns. Contact us today to schedule an appointment for your first Vivace treatment, and you'll be saying hello to bright, beautiful skin in no time.