What Does Laser Treatment Do To Your Skin?
Lasers are a pretty incredible piece of technology when it comes to aesthetic treatments. Think about the variety of treatments that laser technology has been designed for, e.g., laser hair removal, tattoo removal, spot and scar removal, and skin rejuvenation. Each of these laser treatments uses its own unique piece of equipment to tackle the aesthetic concern at hand, and Fox Vein & Laser Experts is proud to offer only the best of the best in these machines and their respective technology.
Let's talk about each of these laser treatments individually and see how each of them works to help your skin.
Laser Hair Removal
When you hear the word 'laser,' hair removal is probably the first thing that pops into your mind. This is because it is easily one of the more popular laser treatments, with its market size expected to reach $1,378.4 million by 2027. It's also a treatment that has long withstood a stigma of being extremely painful. At Fox Vein & Laser Experts, we promise our clients will experience a laser treatment that is not only comfortable but the most effective on the market.
Shaving, waxing, and tweezing are great for short-term solutions, but to truly eliminate or reduce the appearance of hair on the body, laser hair removal is the most efficient choice. We use the GentleMax Pro®, a laser that works by transferring energy right into the hair's follicle, which then absorbs the light energy and begins to break down. After the suggested number of treatments have been performed, the follicles will no longer produce hair, leaving the skin smooth and stubble-free.
The GentleMax Pro gets its name because it really is gentle on the skin. The laser uses super-short pulses that drastically decrease the amount of discomfort and soreness in comparison to other laser hair removal methods. There is no downtime post-treatment either. Our expert team can also increase the energy level of the laser to tackle hair more aggressively during each session, which lessens the number of visits a client needs to achieve optimal results. We recommend about six sessions spaced out six to eight weeks, but it will vary per client.
Tattoo Removal
Tattoo regret affects anywhere from 23 to 78 percent of people. At Fox Vein & Laser Experts, we've spoken to many clients who fall within this percentile and are happy to know that we offer the gold standard in laser tattoo removal technology, known as the PicoWay® laser. This new tattoo removal technology has been successful with the removal of a wide variety of colors. It works on all skin types and colors and is much less painful than other traditional tattoo removal methods.
The Picoway laser works by releasing a high amount of energy in short bursts that shatter the ink particles into small pieces that the skin then absorbs. Because of these short but strong bursts of energy, the laser can really hone in on the pigment(s) of the tattoo and work much more efficiently. This means few treatments are needed for clients and faster results.
Numbing creams and/or cryogenic devices are available to numb the skin before the laser treatment is performed. These options will help make the treatment more comfortable and also help to minimize any post-treatment swelling or irritation.
Spot and Scar Removal
Just as the PicoWay® laser can zap the ink of a tattoo and cause it to shatter, it can also target dark spots on the body and help to improve pigmentation of the skin anywhere on the body. This is an excellent alternative for people who do need spot removal treatments but don't want to go through surgery or be burdened with extensive downtime following the procedure.
The PicoWay® laser technology can also be used to help with scar removal. This new laser delivers short beams of concentrated light into the area where the scar is present. The energy is short but strong enough to break through the skin that caused the scar and break it down. In turn, newer, healthier cells develop which then help the scar to blend in with the rest of the skin's color and eventually fade away.
In both cases, whether used for spot or scar removal, the treatments are quick and there is little discomfort and downtime.
Skin Rejuvenation
Also referred to as laser resurfacing, this laser treatment is used to treat minor skin issues and improve the appearance of skin overall. It can help treat fine lines, wrinkles, age spots, acne scars, sun damage, and uneven skin tone and texture. The expert aestheticians at Fox Vein & Laser Experts use PicoWay® Resolve to address the skin flaws mentioned above.
This fractional laser uses the shortest wavelength of laser energy in the market. Because the skin never heats to a significant amount, there is little to no discomfort, downtime, or side effects. It delivers high-quality results in a quick and simple manner and is safe for all skin types and colors.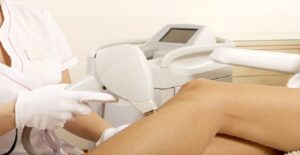 Each Picoway Resolve session is no more than 20 minutes. Since there is no downtime following the treatment, you could easily drop into our office during your lunch break or while out running your daily errands. Sessions are spaced out eight to twelve weeks apart, and the number needed varies from patient to patient, depending solely on the type of skin rejuvenation and desired results.
Contact us at Fox Vein & Laser Experts
If you are looking for laser treatments in Miami, Fox Vein & Laser Experts can help. Whether you are looking for laser hair removal, tattoo removal, spot, and scar removal, or skin rejuvenation treatments, when you come to Fox Vein & Laser Experts, you're coming to the best. Dr. Susan B Fox has decades of successful experience with laser technology and procedures. When you schedule a laser treatment with Fox Vein & Laser Experts, you know you will be taken care of. Call us today at 954-627-1045 to book an appointment for a laser treatment consultation with our team.