Top 3 Microneedling Myths Debunked
We get it: the name microneedling in itself isn't exactly the most appealing. Needles are no one's favorite and because of this fact, there are a lot of microneedling myths that surround one of the most popular cosmetic skin care procedures for 2020.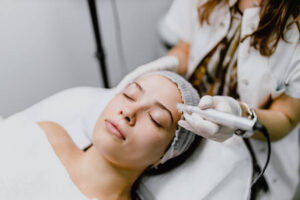 I mean, microneedling can't be all that bad if the entire aesthetic industry has decided that this minimally invasive aesthetic treatment blows plastic surgery and even quick-fix injectables out of the skin enhancing water, can it?
The answer is no.
Microneedling, more specifically Vivace RF Microneedling, is far less scary than it sounds, and way more effective than you may realize. Here at Fox Vein & Laser Experts in Hollywood, we are committed to patient education and making sure you feel comfortable about any cosmetic enhancements you commit to, way before you even walk in the door.
We understand that there is nothing more unsettling than not knowing what to expect during a microneedling treatment or cosmetic procedure of any kind. We want the experience to be stress-free and void of any head-scratching concerns to add to the superior patient experience that we're known for.
This why we're debunking the top microneedling myths for you so that you can enjoy your treatment in total confidence.
     1. Microneedling will leave you bloody
Maybe somewhere else, but at Fox Vein & Laser Experts, where Vivace RF Microneedling holds court as everyone's favorite Miami microneedling experience, blood is definitely not a part of the perfect skin recipe.
Our Vivace RF Microneedling technology offers unrivaled power – and before you balk at the idea of needles – unrivaled comfort.
"The Vivace is a next-generation radio-frequency microneedling device that delivers immediate and long-term results with a pain-free, no downtime experience. The minimally-invasive treatment stimulates the natural production of collagen and is shown to be effective in alleviating facial wrinkles, fine lines, and toning the face, neck, hands, and body. Unique in its design, depth of treatment, precision, and holistic approach, the Vivace is truly best-in-class. " – Cartessa Aesthetics
Vivace RF Microneedling is a simple-yet-effective way to tighten skin, minimize the look of pores, fine lines, and wrinkles, as well as boost collagen on the face, hands, neck, and body.
    2. Microneedling will require a long recovery
If we told you that you could come by on your lunch break for a Vivace RF Microneedling treatment and go back to work immediately thereafter, would you believe us? You should, because it's true. As we mentioned earlier, this no downtime experience has become one of the best perks of microneedling at Fox Vein & Laser Experts.
In the past, traditional microneedling treatments required days if not weeks of downtime as the punctured tissue healed. With Vivace, you can be looking your best in just a few hours, with results that seem to improve each time you glance in the mirror.
    3. You need many microneedling treatments to see a difference
In the past, perhaps, but definitely not now, and most certainly not at Fox Vein & Laser Experts. The bottom line? Results will be visible immediately after your first treatment.
How Vivace RF Microneedling works more quickly than other Microneedling methods?
Vivace RF microneedling works more quickly than other microneedling methods because of its integrated radiofrequency energy, which speeds up the body's natural production of collagen and elastin. The LED light used also helps to calm any inflammation or redness, resulting in much faster healing time.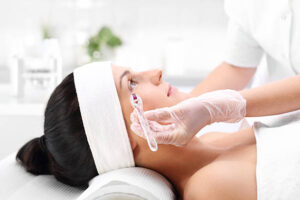 The serum applied immediately after the treatment holds specific nutrients that are key in helping to build that new collagen and elastin at a rapid speed. The reason the serum is able to be absorbed into the skin so quickly is because of the "microchannels" created by the needles on the device. Our best microneedling advice is to commit to three treatments, spaced about six weeks apart, for maximum results.
For the answers to the rest of your microneedling questions, contact us today!