Refining Tummy Tuck & Breast Augmentation Scars
Refining tummy tuck and breast augmentation scars may sound like a daunting task, but at Fox Vein & Laser Experts in South Florida, we've got you covered. It's a bit ironic, how we willingly go under the knife to improve our appearance by augmenting our breasts or tucking in our tummies yet get left with scars that can be more embarrassing than if we never went underwent elective surgery to begin with.
There's no doubt that unsightly post-surgical scarring can feel like it defeats the purpose of having cosmetic surgery of any kind – so we want to settle the score for you, once and for all.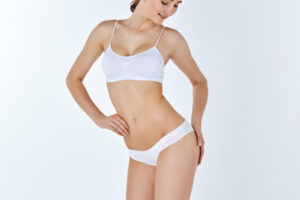 At Fox Vein & Laser Experts, we're here to help you eliminate unwanted scars so you can feel comfortable in your body again – and we have best-in-class laser skincare technology on hand to help you do so!
"We see so many patients whose plastic surgeon has left them with some pretty horrific scarring. Before you go under the knife for elective plastic surgery, it's important to ask your plastic surgeon for before and after pictures. It's also important to know your body – if you tend to scar easily, you can expect to potentially have some scarring that is less than ideal after your procedures," Dr. Susan Fox, says.
What's more is the fact that the scars you see today may not be the scars you see tomorrow. As we age and our skin loses more and more collagen, scars can appear bigger, darker, and rougher. If there is any time to lose your post-surgical scars – it's NOW.
So how do we remove unwanted tummy tuck and breast augmentation scars?
With Picoway Resolve!
Anyone who knows anything about expert-level lasers will give you a big thumbs up for the Picoway Resolve from Candela.. The Picoway laser systems have been at the top of their game for quite some time now when it comes to scar removal.
FOX VEIN – picoway laser scar removal from Susan Fox on Vimeo.
The procedure consists of a special laser delivering targeted laser energy to the parts of your skin that need treatment. The energy is delivered in picosecond bursts which equals one trillionth of a second. When the energy is delivered, it can disrupt pigmentation molecules and make it easier for your body to absorb the hyperpigmentation that is associated with scarring.
 Does it really work?
Not only does Picoway Resolve mean results for anyone looking to eliminate post-surgical scars, it als o works double duty to refine the skin on the area being treated. "Not only will your scar be noticeably less prominent after one treatment," Dr. Fox shares, "your skin will appear tighter and more refined as well."
It safe for my more *private* areas?
No matter the area of your body that has been surgically enhanced or augmented, the Picoway Resolve is completely safe to use – on all skin types, tones, and textures. Many people equate laser technology with being aggressive on the skin but this is quite the opposite. You won't have to worry about burning or further scarring – the Picoway Resolve has you covered.
How much downtime will I need to plan for?
You've likely already spent quite a bit of time healing from your tummy tuck or breast augmentation, and with a Picoway Resolve treatment for your scarring, you won't need to plan for anymore. We always advise that patients can return to their regular lives immediately after a treatment, however we like to just make sure you use sunscreen on the areas that may be exposed to direct sunlight following the procedure.
How can I get a Picoway Resolve consultation for my tummy tuck or breast augmentation scars?
Call us at Fox Vein & Laser Experts in Hollywood today. One of our expert laser technicians will assess your scarring, skin type and tone to further guide you through the laser scar removal process.
Contact us today to book your appointment for treatment of tummy tuck & breast augmentation scars in Miami.