What is a Dermaplaning Facial
Dermaplaning Facial
Facials come in all shapes and sizes. At Fox Vein & Laser Experts, we offer a wide variety of facials, including those specifically catered to teens' and men's skin, back facials, razor bump treatments, detox deep clean for skin that is oilier or prone to black heads, classic facials that mainly address extracting impurities, Virtue RF Microneedling, and one of the most popular and frequently booked, dermaplaning.
Dermaplaning is a facial treatment that uses a specific type of blade meant to exfoliate the skin, and remove the build-up of dead skin cells, as well as those tiny, fine hairs found on the face, also known as "peach fuzz."
As long as the procedure is performed by a certified dermatologist or aesthetician, it is completely safe, with very little risk for any kind of side effects. You might think that because there is scraping of the skin involved, it could hurt, but it is completely painless and there is no downtime or preparation required. It's ideal for all skin types, however, it's not recommended if you have an active acne, rosacea, eczema or psoriasis flare up, as the dermaplaning could irritate the skin even more.
How Dermaplaning Works

When there is excess build up of dead skin cells and other debris on the surface of the skin, as well as those tiny hairs, skin tone and texture can look uneven or dull. Dermaplaning helps to reverse these things. Getting rid of the peach fuzz is a plus too!
The tool used for dermaplaning looks like a razor, but don't let that frighten or discourage you from trying this type of facial. Just as you shave the hair on your legs, underarms or back, the dermaplaning process is a similar concept. Shaving doesn't hurt, and neither does dermaplaning on the face! The sterilized blade is aimed at a 45-degree angle, and then slowly and carefully pulled across the surface of the skin, removing dead skin cells and tiny hairs along the way. It can be done on all parts of the face, including the cheeks, forehead, around the lips, on the tip of the nose, along the jawline, and even slightly down the neck.
You might not realize this, but every time you walk outside, your skin is exposed to harsh toxins and irritants in the environment, and of course there is also the UV rays from the sun to think about. These environmental factors play a large role in things like uneven skin tone, sun spots, dull skin, and other signs of premature aging. Dermaplaning is a safe and effective way of getting rid of those old, damaged skin cells and replacing them with brand new cells, which in turn, gives your skin a bright and beautiful glow that everyone desires.
Dermaplaning Procedure
There is no pain associated with dermaplaning. If anything, all you will feel is a slight tingling sensation as the blade glides along your skin. Some of our clients who regularly get dermaplaning treatments have even said that the "scraping" along the skin feels soothing and the whole experience is very relaxing.
You will be lying down on a comfortable convertible chair for the duration of the procedure, in a clean and quiet room, with just the aesthetician. Although it is not a painful treatment in any way, if you are prone to very sensitive skin, feel free to ask about using a numbing cream or spray if that will make you feel more comfortable. Remember, we are here to make your experience as relaxing and rejuvenating as possible, and will do whatever we can to make that possible.
At Fox Vein & Laser Experts, dermaplaning is performed by our expertly trained aesthetician. You can choose to simply have a dermaplaning session by itself, or add it on to any of the various facials offered. Our medical aesthetician will tailor the facial treatment to your needs, depending on your skin's condition, preferences and desired results. For example, if you are looking for a deeper exfoliation, dermaplaning would be prior to using the AHA/BHAs; however, if you have more sensitive skin, the dermaplaning would be done before applying the mask.
Benefits of Dermaplaning
There are so many benefits of dermaplaning that it's no wonder it's such a popular skincare treatment. Aside from the obvious, removing dead skin cells and peach fuzz, it also improves the tone and texture of the skin, brightens and smooths it, and reduces fine lines, wrinkles, sun damage and acne scarring.
Your skin will feel incredibly smooth to the touch, and look completely evened out. Dermaplaning is known to help the skin better absorb skin care products like facial serums, toners and moisturizers, and you will notice a difference at how much smoother your makeup glides right on. It is one of the best exfoliation treatments you can do for your face, especially if you do not want to do not want to use chemicals on the face like in a facial peel.
Dermaplaning can be performed on its own, and typically takes about 20 to 30 minutes, or it can be done in conjunction with any type of facial, which will take roughly 50 to 60 minutes.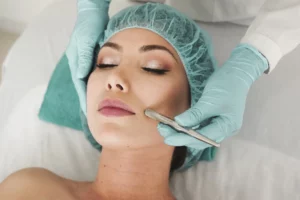 Dermaplaning is not a permanent solution to removing facial peach fuzz and dead skin cells. Results tend to last about three weeks. To maintain your smooth and glowing skin, we recommend getting a dermaplaning facial every three to four weeks.
Please note that following your dermaplaning treatment, you need to be very diligent about sun exposure. Your new skin cells will be extra sensitive at this time, so be careful. Sun damage can cause skin to become blotchy, and it has the potential to reverse the results from your treatment. We always suggest wearing sunscreen that is at least 30 SPF, at all times, even if you are not in direct sunlight.
Contact Us at Fox Vein & Laser Experts
Are you ready to experience a dermaplaning facial at Fox Vein & Laser Experts? Call us at 954-627-1045 to book an appointment.