What To Put On Skin After Microneedling
Now, more than ever, we are paying a lot of attention to our physical health. We are amping up our dosage of vitamins C and D, adding more zinc to our supplement regimen, making sure to get enough sleep, exercising more frequently, and so on. Just as we are working hard to keep our bodies healthy, we should be making it a point to keep our skin healthy too! In fact, our skin is basically the bodyguard to our internal self, defending our bodies against disease, infection, and injury. We should make sure to keep it as healthy as it keeps us!

Skin health is of the utmost importance, and it is something we truly feel passionate about here at Fox Vein & Laser Experts. We offer various skincare treatments that are meant to keep your skin healthy, vibrant, and strong. One of those treatments, and a favorite among our patients and even our own staff, is microneedling. In fact, Dr. Susan Fox recommends microneedling for the best results when it comes to smoothing, tightening, and brightening the skin. Microneedling can also be used to treat acne and scarring, reduce the appearance of fine lines, wrinkles and stretch marks, minimize pores, improve discoloration of the skin, and it can even treatment of alopecia and instances of hair loss or thinning.
What to Expect with Microneedling Treatment

Microneedling is a widely known and used treatment in the skincare world. It involves tiny needle pricks into the surface of the skin to promote the natural rebuilding of collagen and elastin, which makes our skin tighter and thicker. You might be thinking… Needles?! Trust us, it sounds way more painful than it is. You may just feel a slight sensation or some pressure during the treatment, especially around sensitive areas like the tip of your nose or your brow bone. If you are worried about the potential pain, your new aesthetician treatment can apply a special numbing cream to the treatment area 30 minutes prior to your session that will make your microneedling experience very comfortable and virtually painless.
Many times, microneedling is combined with platelet-rich plasma (PRP) therapy, the injection of the patient's own platelets into the area of treatment, to speed up the skin's healing process. This enhances the treatment even further and will make your skin look even more beautiful than it would with just microneedling alone.
You can be sure that when you get microneedling done at Fox Vein & Laser Experts, you are experiencing the most innovative microneedling technology in the industry. Microneedling can be done on the face, neck, hands, and even areas of the body.
What's great about this simple, safe, and minimally invasive skincare treatment is that it does not take very long at all, there is absolutely zero downtime after the session, and results can be seen right away. Instant gratification — now that is something everyone can get behind! For even better results, Dr. Fox and her team recommend coming in for a series of three treatments.
When to see a Doctor
Now that you know you will be walking out of the Fox Vein & Laser Experts office with soft, smooth, dewey skin immediately after your microneedling session, you probably have questions about the post-treatment protocol, such as whether there is anything specific you should or should not apply to your face.
We recommend that you keep your skin free of all makeup and products for 24-48 hours following a treatment, especially products that contain chemicals or fragrances, are used for exfoliation, or have glycolic acid or alpha hydroxy acids. Basically, you want to stay away from any kind of toners, cleaners, or scrubs that could potentially aggravate the skin.
You will also need to avoid any kind of activity that will induce heavy sweating for at least a day or two, so no going to the gym for an intense working out or sitting in the sauna right after getting a microneedling treatment.
As far as what you can use after a microneedling treatment, we highly suggest applying a generous amount of sunscreen to the treated skin on a consistent basis for at least two weeks (you should be doing this anyway!). This will help to protect the skin since it is open and much more susceptible to sun damage. On this same note, it's smart not to spend long amounts of time in the sun for at least the first week following your treatment. If being in the sun is unavoidable — we do live in sunny South Florida — just make sure to apply and reapply sunscreen as much as possible.
Hyaluronic acid, coconut oil, and alcohol-free witch hazel are three products that you can use after your treatment. Hyaluronic acid is said to help continue the collagen production, even after the treatment is over, and coconut oil can restore moisture and hydration into the skin. Witch hazel is a natural cleansing product and is gentle enough to use on the skin following your microneedling session while you are still within that 24-48 hour window of staying away from skincare products.
Don't worry, our expert team will go over all of the special after-care instructions with you once you're done with the treatment, so you won't miss a thing. We will answer any of your questions, address all of your concerns, and make sure that you are completely comfortable with the "before, during, and after" regarding your microneedling experience.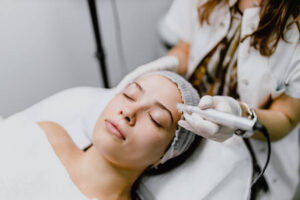 Side effects of microneedling are very minimal. You might see a slight irritation or redness around the treated area, but this is normal and won't last more than a day or so after the treatment. While microneedling is a safe treatment, it is not recommended for pregnant women, or for anyone who has an open wound, a history of skin scarring has been exposed to radiation therapy or has active skin conditions such as eczema or psoriasis.
When you want the best microneedling experience in Miami, there is no better place than Fox Vein & Laser Experts. With locations in Hollywood and Pembroke Pines, we are able to serve patients all over Broward, Miami-Dade, and Palm Beach Counties. Contact us today to schedule your microneedling appointment, and you will be one step closer to bright, beautiful, beaming skin! Call 954-627-1045 or request an appointment online.