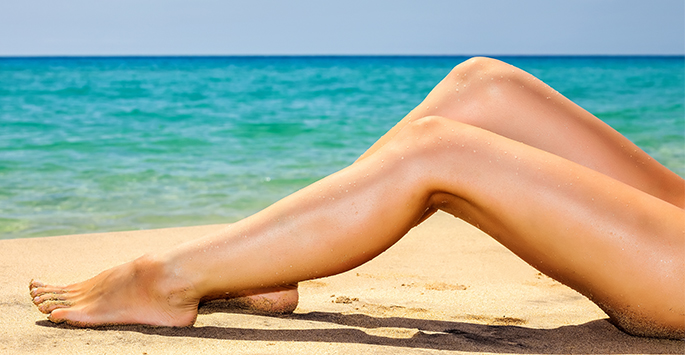 For visible veins beneath the surface of the skin, visual sclerotherapy is a common treatment to restore clear, healthy skin and improve vascular function. But for dysfunctional veins deeper below the surface that can also contribute to venous disease, Miami vein doctor offer ultrasound-guided sclerotherapy at Fox Vein & Laser Experts.
What is Ultrasound-Guided Sclerotherapy?
While traditional sclerotherapy targets surface veins with quick, simple injections, deeper veins can be more difficult to treat as they are not as easily seen below the surface. With the assistance of state-of-the-art ultrasound technology, a needle is precisely and accurately inserted into the underlying vein, and the sclerosing agent is injected into the vein.
The ultrasound-guided sclerotherapy treatment works in the same fashion as traditional sclerotherapy, where the medicated solution causes the walls of treated veins to stick together, sealing them off and rerouting blood to healthier veins. The veins are then gradually removed by the body through natural processes.
What are the Benefits of Ultrasound-Guided Sclerotherapy?
Having deep dysfunctional veins removed with ultrasound-guided sclerotherapy technique has several benefits to the patient, such as:
Using advanced technology to precisely treat veins

Once underlying varicose veins are treated, the likelihood of developing smaller spider veins near the surface can be reduced

This innovative approach to vein removal eliminates the need for extensive vein stripping surgery, significantly reducing downtime and increasing patient comfort

With the aid of ultrasound imaging, Susan Fox and her medical team can visualize the accuracy and efficacy of the sclerotherapy treatment in real time
Is There Any Recovery?
As with other forms of sclerotherapy, this treatment typically does not interfere with normal activities, allowing most patients to return to work immediately afterward. Susan Fox and our medical team may recommend a light walking regimen in order to promote circulation and prevent the formation of blood clots. Susan Fox and her medical team are experts in this procedure and will deliver professional, reliable results with patient comfort and safety at the forefront of every procedure.
Am I a Good Candidate for Ultrasound-Guided Sclerotherapy?
Not all cases of varicose veins can be treated with this technique, and during your consultation, we will assess your individual condition as well as your medical history and other factors to help you determine if this is the best course of treatment for you. At Fox Vein & Laser Experts, we offer a wide range of treatments for the safe and effective removal of spider and varicose veins, and depending on your vein condition we will find the most beneficial treatment option for you.
With locations in Hollywood and Pembroke Pines in Florida, Fox Vein & Laser Experts is led by Dr. Susan Fox. Contact us today to schedule a consultation and find out how ultrasound-guided sclerotherapy can target deeper underlying varicose veins.
Read our blogs related to Ultrasound-Guided Sclerotherapy: