How Many Treatments Are Needed for Brazilian Laser Hair Removal
One of the most sought-after aesthetic treatments at Fox Vein & Laser Hair Removal is laser hair removal. Since we are located in Pembroke Pines and Hollywood, Florida, we constantly see patients who are seeking smooth, hair-free legs, back and bikini areas for those days filled with fun in the sun. Boat outings, beach days, and pool parties are common all year long in South Florida, and that means bathing suits and other skin-baring clothing are wardrobe staples… Bathing suits and bikinis, especially!
Brazilian Laser Hair Removal
For the bikini-wearing babes who want to be hair-free and worry-free, Brazilian laser hair removal is the best option. After going through a full Brazilian laser hair removal treatment, you will no longer need to worry about shaving, waxing, or tweezing the hairs along your bikini line before hitting the beach!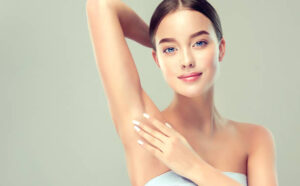 A full Brazilian laser hair removal treatment is when all or almost all of the public hair is removed. Patients can choose how much hair they'd like to leave if any. Some choose to remove every last follicle, while others leave a strip, triangle, or another shape. The choice is yours. Laser hair removal method is more effective and efficient than shaving or waxing, and results in much smoother, clearer skin, without any redness, razor burn or bumps, or ingrown hairs. While women are most likely to get this particular laser hair removal treatment, men can do it too!
Treatments Needed for Brazilian Laser Hair Removal
The number of treatments needed for Brazilian laser hair removal varies from patient to patient. It depends on the thickness of the hair, how much hair is present, and how sensitive you are in that area. We do recommend using a numbing cream about 30 minutes prior to the treatment, to help with any potential pain. The device we used, the GentleMax Pro®, is the gold standard in laser hair removal technology and is well known for being much less painful than other laser devices. However, we do take into account that some patients may be more sensitive than others, especially in the nether regions, and always offer numbing cream as a solution.
Patients Start to See Results After the First Few Treatments
Typically, patients start to see optimal results after the first few treatments. You must shave in between laser hair removal treatments, and as you go through session after session, you will start to notice that the hair does not grow back as thick, and areas will start to grow back less and less until they stop growing back at all. It could take as little as six to eight sessions, spread out every six to eight weeks, but some patients require a few more sessions to get rid of all of the hair entirely. After the follicles have successfully been destroyed, every once in a while you may see a hair or two sprouts up. These hairs will be much lighter, finer, and less noticeable than the hair that was in its place prior to laser hair removal, but nevertheless, we know you don't want it there! For this reason, we do recommend routine maintenance a couple of times a year, just to keep the area smooth, clean, and bikini-friendly!
Laser Hair Removal Expert's Care
There are a few best practices to follow in order to get the most out of your Brazilian laser hair removal treatments. First, while you are under our laser hair removal expert's care, keep your bikini area out of the sun. If you must be outside in a bathing suit, apply sunscreen generously and wear a sarong, shorts, or a cover-up as much as possible. Do not use any self-tanning products either. If the skin has any kind of color to it, it may not take to the laser as well and the treatment will not be as effective. Exfoliation is another important part of laser hair removal. This can help to speed up the hair shedding process in between laser treatments.
In South Florida, Brazilian laser hair removal is one of the most cost-effective treatments you can get. Think about all the money you spend on razors, blades, and shaving cream, or if you wax, those frequent appointments start to add up! Laser hair removal might sound costly upfront, but it ends up saving you lots of time and money in the long run.
Contact Our Laser Hair Removal Experts Today
If you have been considering getting Brazilian laser hair removal, it's time to sit down with our laser hair removal experts and discuss how this treatment can make life so much easier. Dr Susan Fox and her team are here to answer your questions, discuss the treatment process, and make you feel as comfortable as possible about what is a very intimate treatment. Call our office today at 954-627-1045 to schedule a consultation.